Now I know there's plenty of people out there that love MAC lipsticks, I've read countless reviews myself about every red shade under the sun and finally decided to get one for myself. I was also bought a lipstick from Art Deco a couple of weeks later which was also in a beautiful red colour. I love both of these lipsticks, however they both have their pros and cons.
The MAC shade I bought is - Ruby Woo (matte) and the Art Deco shade is from the Dita Von Teese special range so I'm not entirely sure of the shade. Either way they both look fab on.
RUBY WOO
I love this lipstick purely because it's MAC and every girl needs to own at least one of these lipsticks in their lifetime. The colouring of this one in particular is gorgeous, it's a deep red that looks good both on the lips and in the tube, plus its smells amaaaazing. The best thing about this lippy is the shape, it easily fits in any purse and looks even better, the little bullet shape is probably the best selling point for MAC (in my opinion!). The only qualm about this lipstick is the finish. Now every lippy I buy is always in the matte finish because there's nothing worse than bleeding lipstick and I don't really like how shiny red lipstick looks on me. I normally get on with all matte finish lipsticks I buy, however this is just too dry!!!
For example, if I'm wearing it to go out in, I'll apply it and then maybe half an hour later my lips are sticking together and even when reapplying it makes my lips stick. Even with lip liner and lip balm underneath it sticks like a bitch. But hey maybe it's just me and I can't get on with it? Still I wear it because the colour is too pretty to keep locked up in that little tube.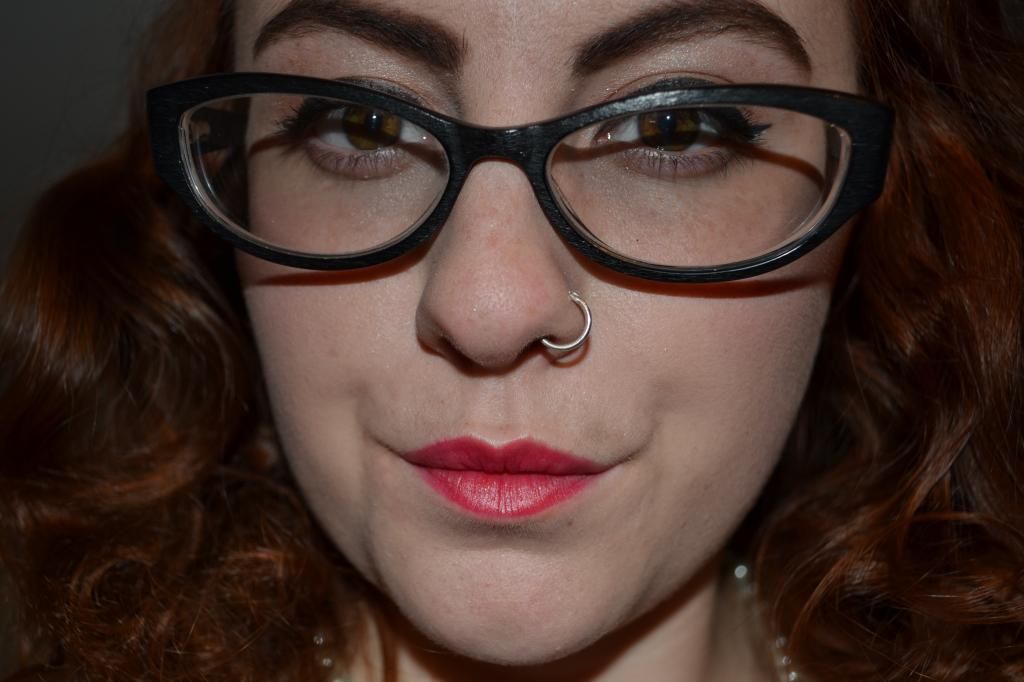 ART DECO
Now I am a little biased with this lippy as it's everything I've ever wanted (including the finish!). The colour is yet again a deep red, a little brighter than the MAC's Ruby Woo. The finish is incredible, unlike MAC it doesn't dry my lips out. It'll still moist on the lips for a good couple of hours and sometimes when out I don't even re-apply as the colour sticks for an age. The only qualm with this lippy is once smudged that's it. It's ALL over my face, meaning I've gotta be super careful when applying. I tend to wear this lippy when I'm going out with friends or drinking, the MAC one to me is more of an everyday lippy as it's not as bright.
Both lipsticks are within hands reach on on dressing table, meaning I'm always using one of them. It just depends on the day. Both lipsticks retail at £15.50 (MAC) and around £15+ (Art Deco) meaning for me their both luxuries but both of them fab!
I just don't think I could pick one as a favorite...

Follow me on Twitter | Follow me on Instagram | Follow me on BlogLovin'