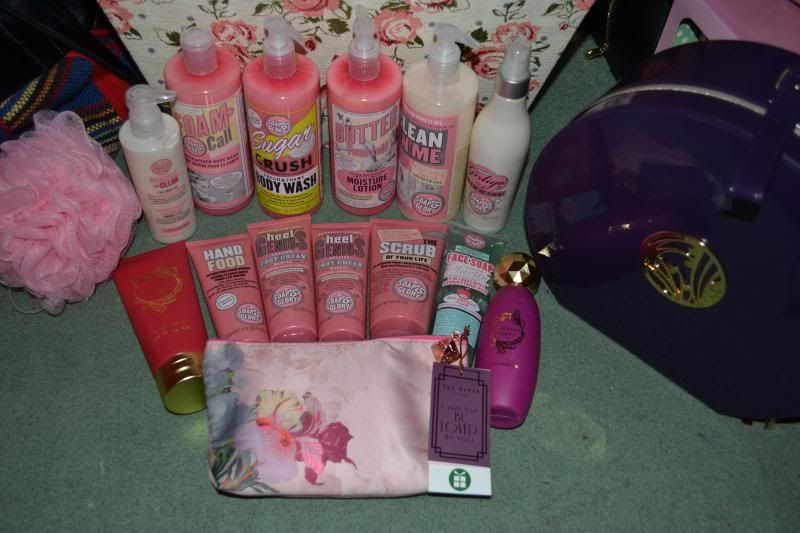 Guess who got spoilt at Christmas time yet again this year. I ended up getting Soap & Glory not just from my boyfriend but also my mum, dad and grandma.. phew! Mind I never say no to gorgeous new bath products, I'm always running out so Christmas time is perfect for everyone to stock me up on my favorite goodies :-)
This year I ended up receiving the huge and wonderful £60 box that gets reduced (thanks Tom more bags for storage!), the Birthday Box and the other tube shaped one from Soap & Glory as well as some spray on moisturizer. Other goodies included the huge purple box which is from Gok Wan's range (I can't remember the name) which included goodies such as bath foam & wash and body butters - all with an amazing smell. & also the gorgeous Ted baker 'I wanna be loved by you' in the gorgeous pink bag which includes a candle, hand cream, lip balm and body spray - it's so gorgeous I don't want to unwrap it!
I got that much my 'normal' storage box was filled so I've had to end up using the S&G bag and also the Gok wan one just to keep my collection under control, all I need is some Lush products to complete the set. I'm going to take a wonderfully long bath on my day off tomorrow and use all my favorite products and some new ones as well! (I'm looking at you Sugar Crush!) I can't wait to smell wonderful with the S&G scents!
Did you receive any bath products this year?