I saw this tag on
Hayley's
wonderful blog and I though 'Ooh I'll give this a go!"
Seeing as I adore lipsticks here are my answers :)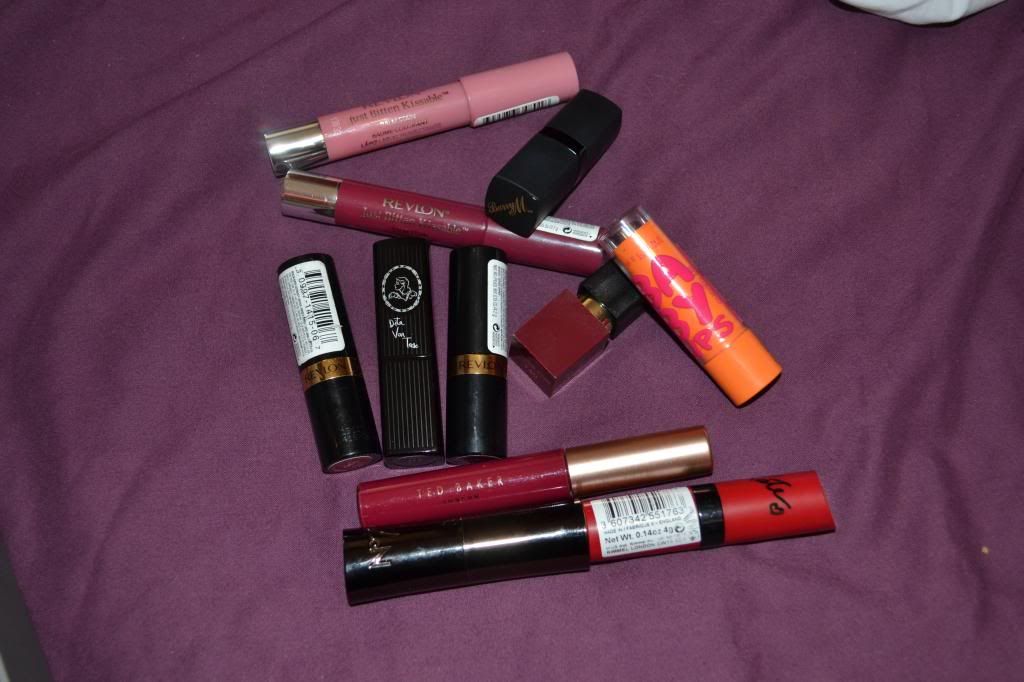 (These aren't all of my lippies, just a few favorites to show you all)
How many lipsticks do you own?
Currently I own 16 lipsticks and 5 lip stains. It was a much smaller amount when I started blogging but alas Christmas & my birthday have been as well as a few paydays.. ;-)


What was your first ever lipstick?
Oh deary me, I can't quite remember, I'm thinking one of those gross lip palettes with the little brushes from Claire's Accessories?
What is your most worn lipstick?
For lipstick I constantly wear Revlon's Matte 006 which is a gorgeous deep red colour with a perfect finish. On 'normal days' I tend to grab a babylips or Revlon's Balm Stain in 'Honey' which is such a gorgeous colour.
What is your favourite brand?
Definitely No7 or Revlon, I do like Rimmel but only the matte finishes. I really want to splash out on a Mac lippy because they are the goddesses of the beauty counters. Hopefully it'll be soon!
What is your favourite finish?
Matte, all the way yes. I do have some sheer lippys and I need to branch out into them, however the one's I have tried I'm not too keen on.
What was the last lip product you bought?
The 3 shades from Collection's Gothic range, I just had to have them for winter! I love berry shades. I also treated myself to the new 'Pink Punch' babylips, not keen on the colour though!
How many glosses and balms do you currently have in your handbag?
I carry a lip balm wherever I go and normally the colour I'm currently wearing, sometimes there's more because I forget to take them out.
What lipstick do you wear to rock a red lip?
My favorite red at the moment is one of Revlon's matte finishes in number 006 Really Red but I hope Mac's Ruby Woo will soon be gracing my lips!
How do you store your lipsticks?
In one of the drawers of my make up box, because I don't have too many I tend to find exactly the colour I want quickly. Although I am thinking about the clear plastic holders for when I move to uni.

What lip products are you constantly lusting after?
I adore the look of the Lime Crime lippys (but what colour to get??) And I also really want to add my first Mac lippy to my collection, I'm thinking Ruby Woo?

Many of you have probably already seen this tag, so link me if you've done it yourself! I always love a good read :)