C is for Classics
Yes I am sorry, another letter dedicated to books! I was going to go with chicken as I love Nando's and Mcdonald's share boxes but I didn't really know what to say and I had no pictures to share, so my love of classic books came next! :)
I don't have a massive collection and most of them are either secondhand or Penguin's classics but I aim to get them all with pretty colours hopefully by the end of this year! I tend to pick them up cheaply because after all their old and I don't want to fork out £8/9 (stingy!!) however these ones were all gifts 3 of which I've read, only Crime & Punishment to go!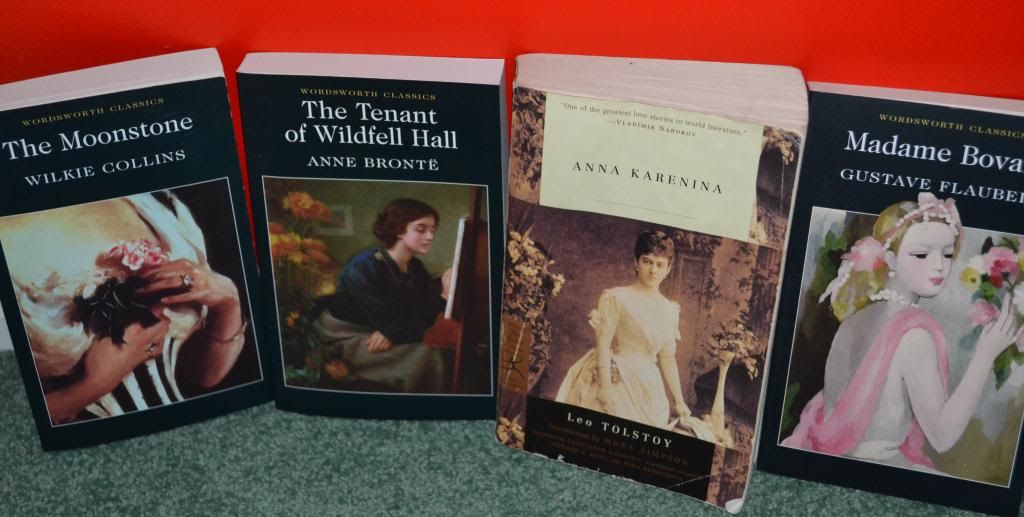 Now these ones are much prettier. The black over ones are from a cheap bookshop in Beverly I think there were around £2.99 each, bargain! I haven't actually read any of these yet I tried The Moonstone a couple on months ago but I had other books I wanted to get my teeth into so I cast it aside, however they all sound pretty amazing!
I have to admit this baby is my favorite! I got bought Oliver Twist, Frankenstein and Dracula all at the same time and this is the one I went for first. I read it once and in the past few months after I read it another 3 times, I just love it. I love the idea of old traditional vampires and this one just stuck with me. I'm even planning on writing my A2 Language coursework on it as a contrast in horror novels, I'm excited!
This is another favorite of mine, I bought this when I was around 13 and I just couldn't read it, I went back to is last year and I haven't looked back. I love the new film release as well, it's just a wonderful romance story. It does loose it's story slightly in the middle but it gets pulled back and the ending is fabulous. Another favorite which I need to buy a physical copy of is Pride and Prejudice, I could watch and read the story over and over and never tire of it.
I even have a folder dedicated to classics on my kindle for when I'm on the go. I do need to read my way through quite a few of them and I will eventually buy them. I just love owning books!
What's your favorite 'classic' book?