So it seems I've jumped on this band wagon too, apologies but it's such a good tag I just had to! I've always wondered how much I've spent on my 'everyday' look because I always seems to buy make up, every single payday I buy bits and bobs I never seems to use! However I'm glad I only have 2 high end brands in my everyday look and I can't afford other bits from them!
I've also decided to include my daytime skincare as it's something I apply before my make up!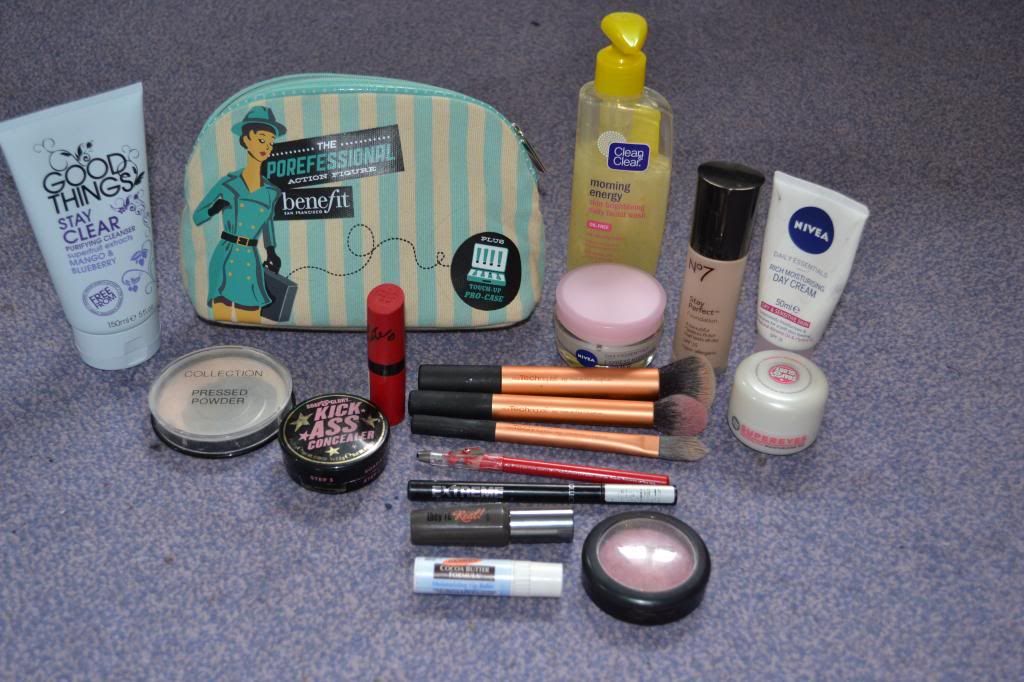 Skincare:
Clean & Clear Morning Energy Facial Wash - £3.99
Nivea Daily Essentials Day Cream (Dry & Sensitive Skin) - £4.19
Good Things Stay Clear Cleanser - £4.99
Soap & Glory's Super Eyes Eye Cream - £9
Nivea Daily Essentials Hydration Primer (Dry/Sensitive Skin) - £3.99
Face:
No7 Stay Perfect Foundation in Calico - £14
Collection 2000 Pressed Powder in Ivory - £1.99
Soap & Glory's Kick Ass Concealer in Light - £10 (I got it for £7 in the sale)
Mac Mineralize Blush in Gentle - £19 (present)
Eyes:
Collection 2000 Extreme Felt Liner in Black - £2.99
Benefit They're Real! Mascara - Magazine Sample normally £9.50
Lips:
Palmers Coco Butter Lip Balm - £1.89
MUA Lip Liner in Red Drama - £1
Kate Moss Rimmel Matt Lipstick in 111 - £5.49
I also use the Real Techniques Buffing Brush and Contour Brush which came in the Core Collection which I bought for £18.
Aaaand the grand total is.... £101.53!!
(Not including the MAC blusher or Benefit mascara.)
That has genuinely surprised me! I didn't think I actually spent that much on my face ever single day!! Thank goodness this is my 'normal' look which I wear for going out as well as everyday, I tend to change my lip colour but I don't have any high end Mac lippys so I'm all good there. I guess I spend a lot on skincare and foundation, but hey the products are perfect for me.
I loved doing this tag and if you've done it yourself link it below so I can see, I love to read them! :)