There has never been such a truer statement. We have shoes to impress, for comfort, for daily activities and for fun. Shoes to go with every outfit, every style, shoes to match each little thing we want. I'm not big on 'fashion' and the expensive designer clothes that have a price tag over £1,000 but when it comes to shoes, there is no limit.
For instance all the shoes I have are pretty much my favorites, I don't tend to pick my daily shoes because I already know what they'll be, that goes for my going out shoes and what not too. Here are some of my favorites.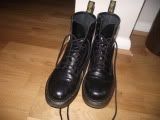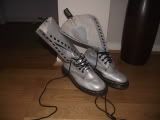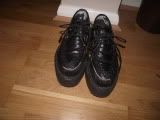 Doc Martens have always been my favorite shoes, for a very long time. I got my first black pair at the age of about 13 and I only got my second black pair, after my first ones had literally fallen apart, at 16 for prom. I also got my second pair along with my first pair one Christmas, these were a metallic purple color. I got my silver ones when out with my current boyfriend just shopping because we had a bit of spare cash. My creepers, my first pair to date I got last October for my 16th birthday after I had nagged and pleased for them (my mum still hates them though).
Black Docs.
1st pair £75 - Schuh. 2nd pair - £66 from eBay.
Purple Metallic Docs.
£75 - Schuh (bearing in mind this was 3 years ago).
Silver (mid leg 14/16 eyelet) Docs.
£18 - Chinese Laundry.
Black Leather Brothel Creepers (double sole 2inch)
£55 - eBay.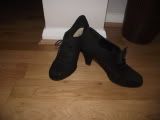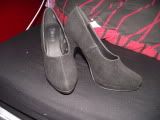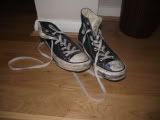 I also have quite a mixed collection of shoes, such as heels and little ballet pumps and also I have
Converse
and fake Chelsea boots (2nd pic). All for very different occasions but I love every pair. The third picture of heels I consider to be my babies and I've only worn them twice, I'm not use to wearing heels and well.. these ones are huuge.
Brogue Style Heeled Boots.
£25 - Newlook.
Fake Style Chelsea Boots.
£8 - Primark.
Platform Heels
£18 - Matalan.
Converse All Star Baseball Boots (probably my 3rd at least)
£25 - Schuh (this was about 3/4 years ago as well.)
I do pretty much love all the shoes I won, I don't think I could part with any of them, instead just add to my collection and I do have a cheeky few pairs on my wishlist. Some of them pretty pricey.
Studded Doc's.
Now I don't quite know where to find these because I just found the image online, so I guess their self customized.
Studded Suede Brothel Creepers (double sole 2inch).
£34 - eBay (inc p&p)
Chelsea Boots.
£24 - eBay (inc p&p, also they aren't '''real ones''').
Cherry Red Doc's. (Always been a huge favorite and must have for me).
In shops - £90-£100. eBay - £50 - £60.
Studded Campell Boots.
I'm aware that these for real ones can be about £50 - £100 but I have seen some really good fakes for for about £40 - £50 off eBay.
What some people would called an 'odd' wishlist for shoes for a girl but I guess I just like different things to what everyone else likes. But hopefully within the coming year I can knock a few pairs off my shoe wishlist, I mean I am going to need to shoes for college when I start ^.^